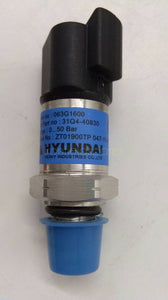 Hyundai Genuine Pressure Sensor 31Q4-40830 R220LC-9 R250LC-9 R290LC-9
Regular price $65.00 $50.00 Sale
Product information for Hyundai Pressure Sensor 31Q4-40830
Condition: 100% Brand new
Excavator Models:
R210-7V, R210LC-9, R220LC-9, R220NLC-9A, R235LCR-9, R250LC-9, R260LC-9A, R290LC-9
Available Part Number: 31Q4-40830
Shipping: This product will be shipped from Hong Kong. It will take 1 Week to North America and Asian Countries. 7-10 Days to South America and Europe.
Payment: You can pay with Telegraphic Transfer/Western Union or Paypal in small quantity. If you order in large quantity, we usually do LC at sight.
Origin: England
Returns and Refunds policies: View here
If you live in a country that tends to block imported products, please make sure you can clear the customs if it gets blocked. Genuine parts are considered branded products and may be more prone to being blocked.
Please feel free to contact us with the Facebook messenger in the bottom right of the website.