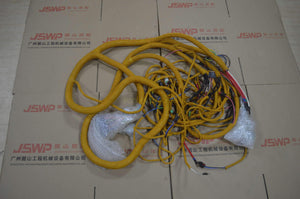 CAT320D E320D Chassis Harness C6.4 306-8777 3068777 291-7590 2917590
Regular price $87.00 $1,600.00 Sale
Product Information for
CAT320D E320D Chassis Harness C6.4 306-8777 3068777 291-7590 2917590
There are 2 variant. $1600 and $2550. If you need a decent replacement, $1600. If you want it to be as good as original, $2550.
$2550 harness will be made with CAT original blueprint and branded materials. 
For both options, we guarantee the replacement wire will be fully functional and should not lack any features
We need 3-5 days to make.
We make this with original plugs and materials.
We will make according to the order part number
Excavator Models: CAT320D with C6.4 Engine
This is the chassis harness of 320D. The largest wire on the CAT 320D machine. 
Shipping: This product will be shipped from Hong Kong. It will take 1 Week to North America and Asian Countries. 7-10 Days to South America and Europe.
Taxation: This will be an international shipment so make sure you know your country import regulations. For USA, shipment below $800 can be considered personal use and thus, will not be taxed. 
Payment: Telegraphic Transfer and Western Union. You can also purchase directly on our website with Paypal.
Origin: China
Returns and Refunds policies: View here
Please feel free to contact us with the Facebook messenger in the bottom right of the website.