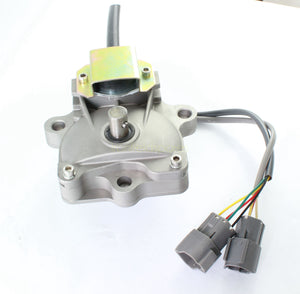 KOMATSU PC120-6 PC200-6 PC220-6 Governor Motor 7834-40-2000
Regular price $320.00 $140.00 Sale
Product information for KOMATSU PC120-6 PC200-6 PC220-6 Governor Motor 7834-40-2000
Description: There are two variants of this item and two pricing. The quality is different for each. The 102USD is made in China and every part of it is made in China. The 262USD is the better one. The angle sensor, DC motor and other core parts are from Japan, and thus, the price is more expensive.
Condition: 100% Brand new
Excavator Models: All Komatsu PC-6 Series
Available Part Number:
7834-40-2000
Shipping: This product will be shipped from Hong Kong. It will take 1 Week to North America and Asian Countries. 7-10 Days to South America and Europe.
Taxation: This will be an international shipment so make sure you know your country import regulations. For USA, shipment below $800 can be considered personal use and thus, will not be taxed. 
Payment: You can pay with Telegraphic Transfer/Western Union or Paypal in small quantity. If you order in large quantity, we usually do LC at sight.
 Origin: China
Returns and Refunds policies: View here
Please feel free to contact us with the Facebook messenger in the bottom right of the website.