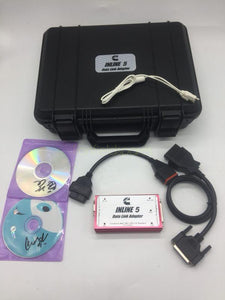 KOMATSU Data Link Cummins Inline 5 Diagnostic Tool 3165033
Regular price $430.00 Sale
Product information of KOMATSU Data Link Cummins Inline 5 Diagnostic Tool 3165033
Customers are encouraged to contact us regarding this product in terms of compatibility and etc.
Availability: In stock
Condition: 100% Brand new
Other names: Diagnostic scanner, EMPS Scanner, Electric System Scanner
Type: Brand New Aftermarket
Shipping: This product will be shipped from Hong Kong. It will take 1 Week to North America and Asian Countries. 7-10 Days to South America and Europe.
Taxation: This will be an international shipment so make sure you know your country import regulations. For USA, shipment below $800 can be considered personal use and thus, will not be taxed. 
Payment: You can pay with bank transfer/online transfer/Paypal in small quantity. We will send you a proforma invoice. Packing list will be included for large quantity.
Includes: Everything shown in the photos
Features
1. ECM Summary screen lists every control module on equipment
2. Being tested and gives information on these modules.
3. Fast hookup and real time display of systems status. Displays ,readings such as rpm, boost, pressures,
temperatures, etc. for Easy troubleshooting.
4. Identifies faulty sensors, harness connectors, and system parameters which are out of specification. Allows customers to detect problems early.
5.To help dealer identify problems without visiting machine.
6. Identifies intermittent sensors and wiring problems during Machine operation and keeps a record of each one. Showswhen problem occurred and how often it happened.
7. Added information to allow customer to assist dealer in diagnosing and repairing problems. (Troubeshooting Help is not built in with in the program, you will still need go back to books in order to follow a repair description and steps in each Fault Code display within the program).English and metric units of measure integrated help file to easy learn the "How To" around the software.
This item is mainly used on Excavators and can work with other heavy machines that uses the same brand of engines.