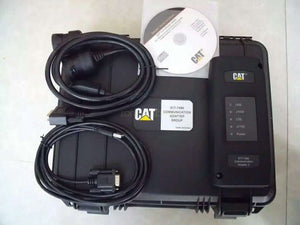 CAT ET3 317-7485 Electric System Diagnostic Tool
Regular price $460.00 $320.00 Sale
CAT ET3 317-7485 Electric System Diagnostic Tool 
This set comes with ET3, USB cable, 6&9pin cable and CD for installation 
You must make sure it is connected to machines that are 24V and there is no short circuit or high voltage. If there are voltage abnormality, you could damage this ET3

This item can be used across all CATERPILLAR branded machines EXCEPT some generators and trucks as the manufacturers doesn't have blueprint so some may work and some don't. The models that we are confident would work are excavator, bulldozer, graders, backhoes and other off-road vehicles. 


The Version is 2018. It does not update like the original, but unlike original, our software is free to use unlike licensed ones.
If you encounter any problem during installation, contact us. We'll respond asap. You can send us your screenshots and etc so we can guide you through the process or I can install for you with teamviewer.
Installation video for 2018A version: https://www.youtube.com/watch?v=wpgcSb8pDwI&feature=youtu.be
Testing video for CAT ET3 with simulation: https://www.youtube.com/watch?v=5xnkuOwtnDI&ab_channel=JSWPCustomerService
Availability: In stock
Condition: 100% Brand new
Other names: Diagnostic scanner, Communication Adapter, ET3
Type: Brand New Aftermarket
Shipping: This product will be shipped from Hong Kong. It will take 1 Week to North America and Asian Countries. 7-10 Days to South America and Europe.
Taxation: This will be an international shipment so make sure you know your country import regulations. For USA, shipment below $800 can be considered personal use and thus, will not be taxed. 
Payment: You can pay with bank transfer/online transfer/Paypal in small quantity. We will send you a proforma invoice. Packing list will be included for large quantity.
Includes
There are 4 components. Can be different for different brands:
CAT Comm Adapter III
CD for installing the drivers
USB Cable (From device to your computer)
6 & 9 pin cable (from device to your vehicle)
Function
1.Display "Logged Event Codes" to show engine over speeds, High temperatures, fuel consumption, etc.
2.View ECM's current configuration and change user settings
3.Perform diagnostic tests and calibrations, and calibrate
4.Electro-mechanical and electro-hydraulic components
5.Context sensitive help leads operator through every task Cat ET can perform
6.Data Logger and Data Log Viewer allows recording of ECM signals for delayed troubleshooting capability.
Functionalities Shows all operating conditions that cause high repair costs such as:
Over speeds, high temperatures, fuel consumption, transmission shift counts. This can provide awareness to change operator
Cat "ET Trainer" is now included in ET Program. It allows Users to train and practice using Cat ET without a Communications adapter or Electronic Control Module (ECM).This is a free feature of Cat ET.
Features (For CAT)
1. ECM Summary screen lists every control module on equipment
2. Being tested and gives information on these modules.
3. Fast hookup and real time display of systems status. Displays ,readings such as rpm, boost, pressures,
temperatures, etc. for Easy troubleshooting.
4. Identifies faulty sensors, harness connectors, and system parameters which are out of specification. Allows customers to detect problems early.
5.To help dealer identify problems without visiting machine.
6. Identifies intermittent sensors and wiring problems during Machine operation and keeps a record of each one. Showswhen problem occurred and how often it happened.
7. Added information to allow customer to assist dealer in diagnosing and repairing problems. (Troubeshooting Help is not built in with in the program, you will still need go back to books in order to follow a repair description and steps in each Fault Code display within the program).English and metric units of measure integrated help file to easy learn the "How To" around the software.